When Thanksgiving hosts and their guests ponder must-have desserts, one of the most common favorites is an oh-so-delicious pie. More specifically, with nearly endless possibilities and its familiar festive flavor, pecan pie is one of America's most beloved holiday treats.

From nods to the Northeast's love of maple to celebrating sweet tastes of the West Coast with a citrus twist, the American Pecan Promotion Board is celebrating regionally inspired recipes. While the classic pecan pie is a hit at the Thanksgiving table, you can make it a perfect palette for creativity this year by enjoying local flavors that take the festivities up a notch.
For example, putting a festive spin on the holiday favorite can be as easy as this sweet and savory Bourbon Bacon Pecan Pie that's a mouthwatering take on tradition. Or, if you're in need of a quick snack everyone can share while mingling, opt for this Chocolate Cherry Pecan Snack Mix that takes just 20 minutes to prepare. It includes chocolate-glazed pecans tossed with yogurt-covered raisins, pretzels and dried tart cherries – a staple of the North.
When it comes to pecans, great taste is just the beginning. They're the ultimate supernut due to their flavor versatility and nutritional benefits. Next time you're shopping for pie ingredients, remember you can pick up an extra bag to add to favorite appetizers, snacks, meals, desserts and more all holiday season long.
Find more regional recipe inspiration by visiting
eatpecans.com
.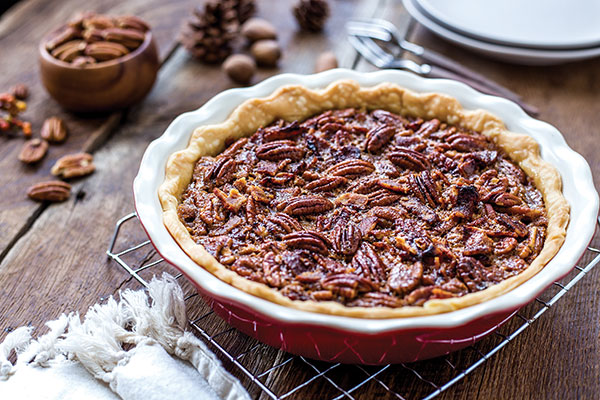 Bourbon Bacon Pecan Pie
Recipe courtesy of Emily Caruso of "Jelly Toast" on behalf of the American Pecan Promotion Board
Prep time: 20 minutes
Cook time: 70 minutes
Servings: 10
1 pie dough (9 inches)
4 strips thick-cut bacon
1/2 cup dark corn syrup
1/2 cup light corn syrup
1 cup light brown sugar
2 tablespoons unsalted butter, melted
2 tablespoons bourbon
3 large eggs
1/2 teaspoon salt
2 1/2 cups raw pecan halves
Place baking sheet in oven. Preheat oven to 350 F.
Gently line pie pan with rolled out pie dough. Press into edges and up sides. Use fingers or fork to create decorative edge. Set aside.
In skillet, fry bacon until crisp. Remove from pan and drain on paper towels then chop into small pieces and set aside. Reserve 1/4 cup bacon grease.
In large bowl, whisk dark corn syrup, light corn syrup, brown sugar, reserved bacon grease, butter and bourbon. Add eggs and salt; whisk until mixture is even. Fold in pecan halves and chopped bacon.
Pour mixture into pie crust and spread evenly with spatula. Gently cover edges of pie crust with aluminum foil. Place pie on preheated baking sheet and bake 60-70 minutes, or until pie is set in center.
Remove pie from oven and cool completely before serving or chilling.
Notes: Pie can be made 1 day ahead and refrigerated overnight. Allow pie to come to room temperature before serving.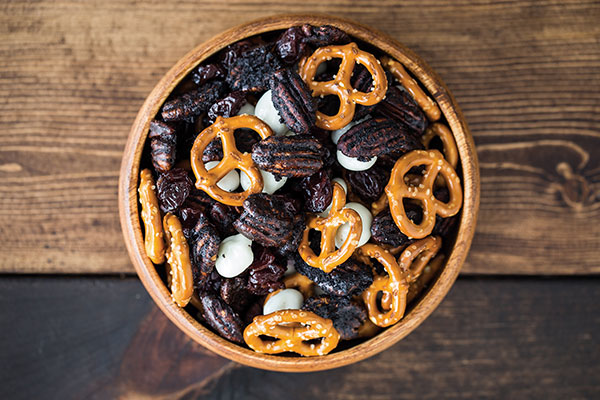 Chocolate Cherry Pecan Snack Mix
Recipe courtesy of Emily Caruso of "Jelly Toast" on behalf of the American Pecan Promotion Board
Prep time: 5 minutes
Cook time: 20 minutes
Servings: 20
1 large egg white
1/4 cup light brown sugar
1 1/2 tablespoons unsweetened cocoa powder
1/2 teaspoon vanilla extract
1 teaspoon salt
1 tablespoon water
1 1/2 cups pecan halves
1 cup dried tart cherries
1 cup small pretzels
3/4 cup yogurt-covered raisins
Heat oven to 325 F.
In bowl, whisk egg white, brown sugar, cocoa powder, vanilla extract and salt until well blended. Add water to thin mixture slightly. Fold in pecan halves until well coated. Spread mixture onto parchment-lined baking sheet.
Bake 15-20 minutes, or until mixture is well set. Stir mixture several times during baking. Allow pecans to cool completely and transfer to bowl. Mix in dried cherries, pretzels and raisins.

SOURCE:
American Pecan Promotion Board