Bringing together loved ones with classic seasonal meals is a staple of the holiday season, and few centerpieces call to mind childhood memories like a tender ham cooked to perfection. A longtime hallmark of family meals during the holidays, ham can feed a crowd, complement a wide variety of side dishes and is easily elevated with glazes, spices and rubs of all kinds for those who want to take their hosting up a notch.
While ham can be the centerpiece of your holiday dinner, it's also a versatile dish that can be served for any special occasion. Ham is also ideal for incorporating into holiday brunches, served as an hors d'oeuvre at cocktail parties and shared at office potlucks.
To help cook the perfect ham for your celebration, consider this advice for a festive feast from the experts at Coleman Natural Foods, which has produced high-quality, all-natural, humanely raised, no antibiotics ever, fresh and prepared meats sourced from American farmers since 1875.
Start with a tender and delicious spiral ham, which is pre-cut in one continuous swirl, allowing you to simply cut each piece from the one behind it for even, consistent slices.
Set the oven to 250-350 F, keeping in mind lower temperatures lead to longer cooking times but more tender meat. Bake 10-16 minutes per pound, adding glaze about 15 minutes prior to finishing, until the ham reaches an internal temperature of 145 F at its thickest part.
Make your guests' mouths water with a sweet glaze that mingles with the ham's natural saltiness, creating a balance of flavors. To achieve a unique taste, try flavors such as pineapple, honey or ginger. For a classic, delicious ham perfect for holiday gatherings and special occasions, try this Brown Sugar Honey Glazed Ham.
After enjoying as the centerpiece of your holiday dinner, it can be savored in the days following your celebrations to help make lunches and weeknight meals a breeze after a busy season.
Leftover ham can be enjoyed in sandwiches like a ham and cheese melt, mixed in a delicious salad, chopped up into an omelet for a hearty breakfast or added to macaroni and cheese for a protein-packed dinner.
Find more holiday ham recipes at
ColemanNatural.com
.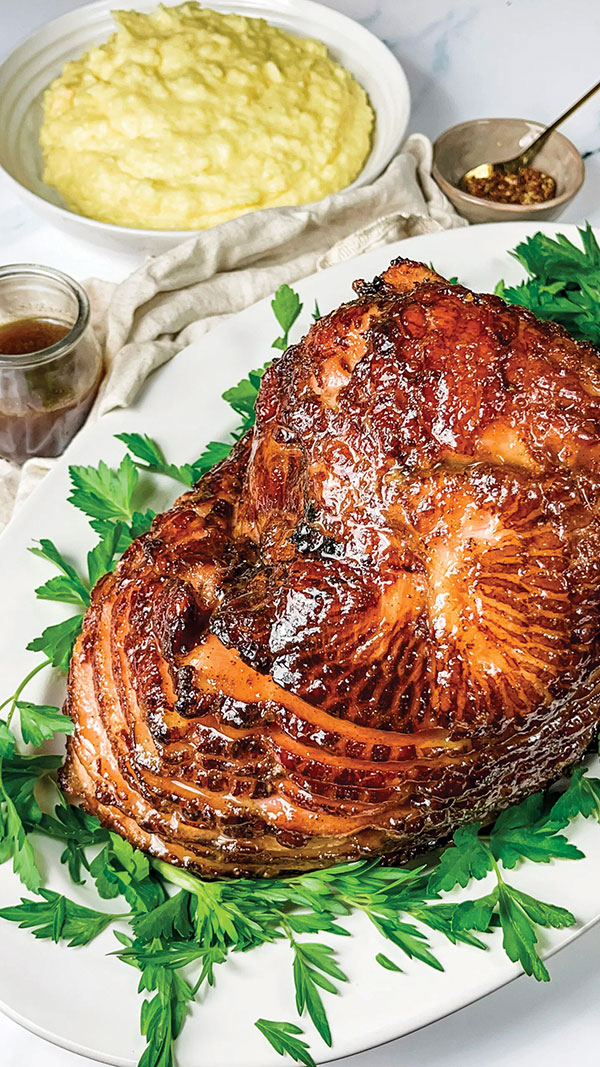 Brown Sugar Honey Glazed Ham
Prep time: 12 minutes
Cook time: 90 minutes
Servings: 32
1 fully cooked Coleman Natural Applewood Smoked Bone-In Spiral Ham (7-9 pounds)
1 cup packed brown sugar
1/2 cup honey
1/2 cup unsalted butter
1/4 cup Dijon mustard
2 tablespoons apple cider vinegar
1/4 teaspoon ground cinnamon
1/4 teaspoon ground cloves
Preheat oven to 325 F.
Remove ham from packaging and place in roasting pan with flat side down.
Bake ham about 1 hour until heated through to internal temperature of 130 F with meat thermometer inserted into thickest part of ham.
In medium saucepan, combine brown sugar, honey, butter, Dijon mustard, apple cider vinegar, cinnamon and cloves. Cook mixture over medium heat, stirring frequently, until butter is melted and ingredients are well combined.
Brush about half of glaze over ham, making sure to fill crevices or scored cuts.
Return ham to oven and bake 30-45 minutes, or until glaze is bubbly and caramelized with internal temperature of 145 F.
Baste ham with pan juices and glaze every 10-15 minutes while baking.
Remove from oven and let rest 10 minutes before slicing and serving.

SOURCE:
Coleman Natural